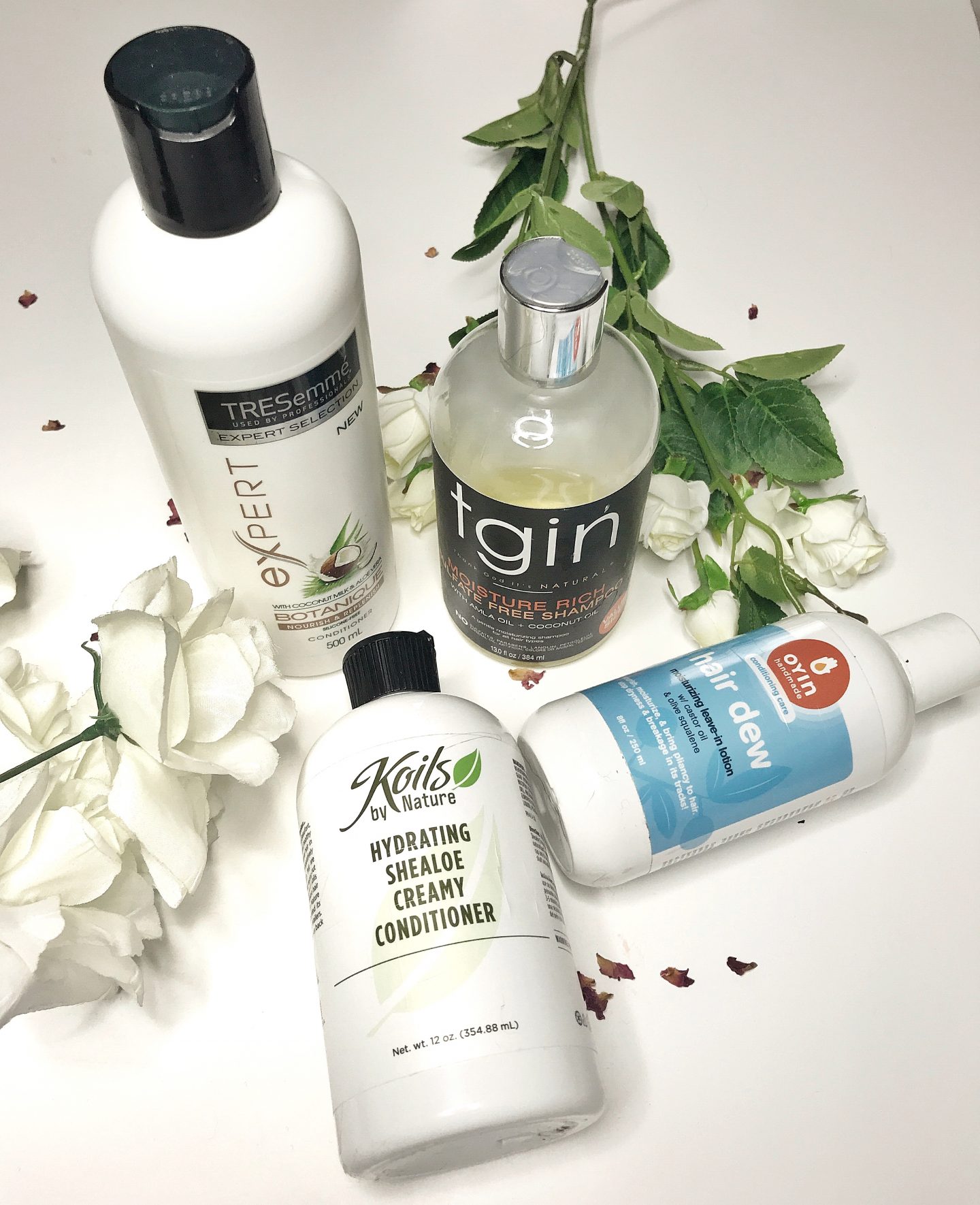 Happy New Year! So I thought I'd start the new year with The BEST of 2018 post as I have had some great additions to my holy grails. Whether it is relaxed hair, beauty, or fashion.
This is not a sponsored post. All of these items I've used throughout year and I love them all. There are some affiliate links so if you would like to support me that would be great.
So let's do this…
Best Relaxed Hair Products for 2018
Best Shampoo and co-wash for Relaxed Hair
tgin moisture Rich Sulfate free Shampoo
This shampoo has kept my hair clean, moisturised and detangled for many years. For this reason I always recommend it and I have not strayed once. It's sulfate free, packed with smoothing and strengthening ingredients. This will forever be in my holy grail stash. Here's my wash day to see how my hair loves it. (purchase here)
Tresseme Botanique Nourish & Replenish Conditioner
This conditioner has been the only thing that co-washed my hair and leaves it moist/detangled. Smells amazing too. I also use it as a detangling conditioner under running water. Works like a dream. (purchase here)
Best Deep Conditioners for relaxed hair
Being a product junkie I have loads to try mainly as my favourite deep conditioner, Deep Conditioning Hair Masque by Hairveda is not being sold at the moment in the UK or otherwise which is heartbreaking for me. Below I have great alternatives.
Koils by Nature Hydrating Shealoe Creamy Conditioner
This has ingredients my hair loves; Aloe Vera juice, Shea butter, Grapeseed oil, and Coconut oil. It is a normal conditioner but when mixed with TGIN Honey Miracle Hair Mask it is awesome! I get all the hydration and slip I need. (purchase here)
tgin Honey Miracle Hair Mask
This has been a life saver for me this year. And it will continue for a long time. The smoothness, the smell and the hydration all of them is yes for me! (purchase here)
Best Leave-ins and moisturisers for relaxed hair
I am proud to say that I have a new contender, my hair is difficult so this is HUGE.
Oyin Hair Dew
I was on the search for a non glycerin leave to test my hairs reaction and this is doing really well. It creamy, moisturising, has aloe vera juice and castor oil which my hair loves. You can even use this as a daily moisturiser so i may see how that goes too. (purchase here)
Best Hair Tools for relaxed hair
Chidora Wool Bobble Hat
This has been a life saver. A silk-lined hat that keeps me warm and protects my hair at the same damn time. All of this is YES! Prior to getting this hat i was wearing a silk bonnet under a hat and i may or may not cared if the bonnet was obvious lol.
As long as my head was warm and protected I didn't care. NOW, I can sport this new hat looking cute, protected and moisturised. (also, minding my business) I would really love for a kids option as I honestly think kids hats are purely designed to damage our hair. In conclusion, I'm here for this HAT. Currently looking at the other designs because a girl has got to have options. (purchase here)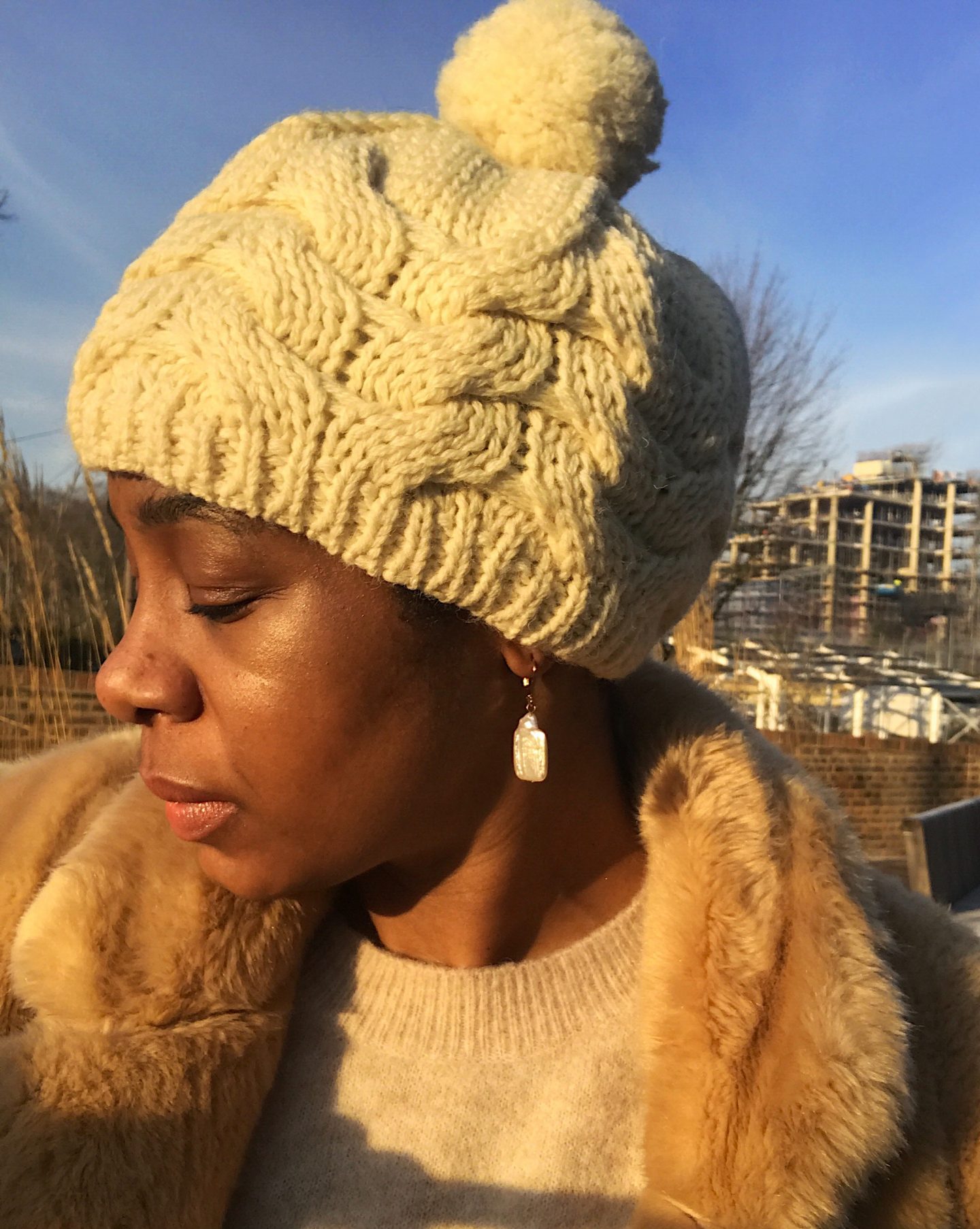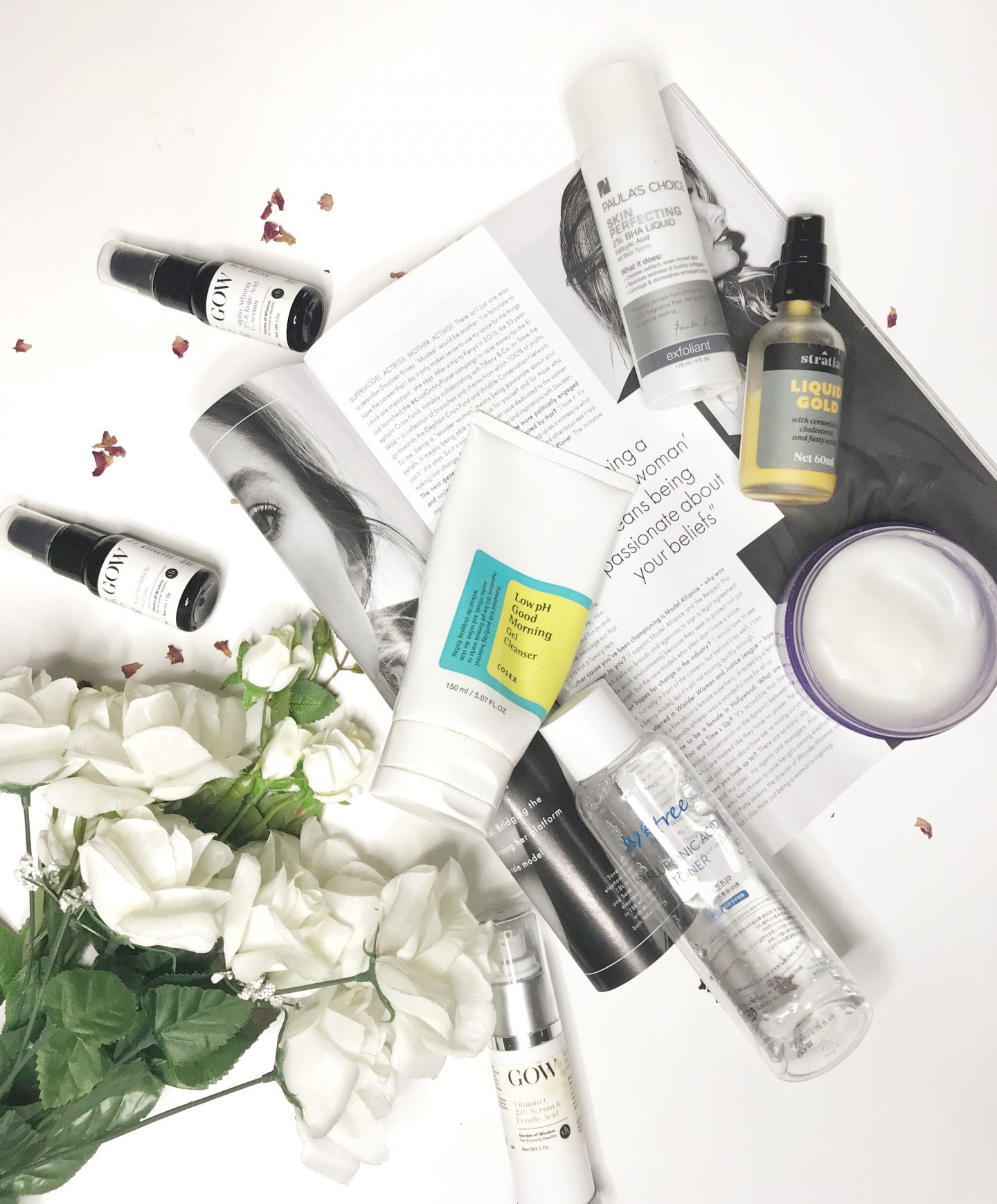 Best skin products for combination skin
Cleansers
COSRX low PH Good Morning Gel Cleanser
This was my first purchase when I found out the importance of a low PH cleanser. This is SOOOO cheap and great value for money. It has a hint of the tea tree (which I'm fine with) and has works a treat for keeping pimples are bay. (purchase here)
Clinique Take off The Day Balm Cleanser
This stuff right here. Nothing short of a miracle. For those that don't know it is best to double cleanse in the evenings. The first cleanse is to remove your sunscreen (yup everyone needs this! It also helps me to prevent high pigmentation), your makeup and pollution) this balm, does the job for all three. This will forever be in my arsenal. The second cleanse is to give your skin a bit of a pamper and the good stuff. You don't want to use the good stuff to take of the day do we now. We need to maintain #Boujeeonabudget. (purchase here)
Stratia Liquid Gold
This is an amazing indie brand I discovered on instagram. This moisturising is long-lasting and packed with oils my skin loves. It's has Niacinamide which is great for high pigmentation and preventing pimples. Although it has a yellow it does not show up on my skin so I happily use it in the mornings. This has been a go-to for the last two years. It is an American brand so it's shipped, thankfully I've had no custom charges. Oh, checkout their other products. (purchase here)
Acid toners
Paulas Choice Skin Perfecting 2% BHA Liquid Exfoliant
Since going on a journey of bettering my skin, I discovered BHA. This has been a great saviour! congestion? What congestion? Yup, that's how great this product has been for me. All of those blackheads on my nose, cheeks and forehead… begone! In short… this amazing product is worth it. I couldn't be without it. I now use it once a week. (purchase here)
The Ordinary Glycolic Acid 7% Toning Solution
Another life changing product. This promises to remove the top layer of skin of dead cells and give a brighter complexion. This does it all for me. My skin glows! No more flaking, eczema patches, rough skin.. yup, all gone. This is budget friendly too. (purchase here)
Best serums and hydrating toner
So disclaimer, I mix my serums (that I know work together) and my hyaluronic hydrating toner as it cuts application time and still does the job. I have a bottle from muji I use to store this amazing mixture.
Isntree Hyaluronic Acid Toner
This Hyaluronic acid has been a recent addition and it has helped my skin in these colder months. It's Korean and cheap gives me moisture for days. I found a website that sells Koreans skincare so I have been LOVING it. (purchase alternative here – this my second fav – this was sold out)
Niacinamide serum by Garden of Wisdom
This serum has been one of my secret weapons as to why I don't break out as much and my high pigmentation has reduced. This also keeps me hydrated too. (purchase here)
Alpha Arbutin 2% with Kojic Acid 1% by Garden of Wisdom
This is another powerhouse to combat high pigmentation. I scar easily so this helped to get rid of old scars and any that crop up during my cycle. The Kojic acid has antioxidants that help to protect against free radicals so a great added bonus. (Can cause damage to the skin that speeds up ageing) (purchase here)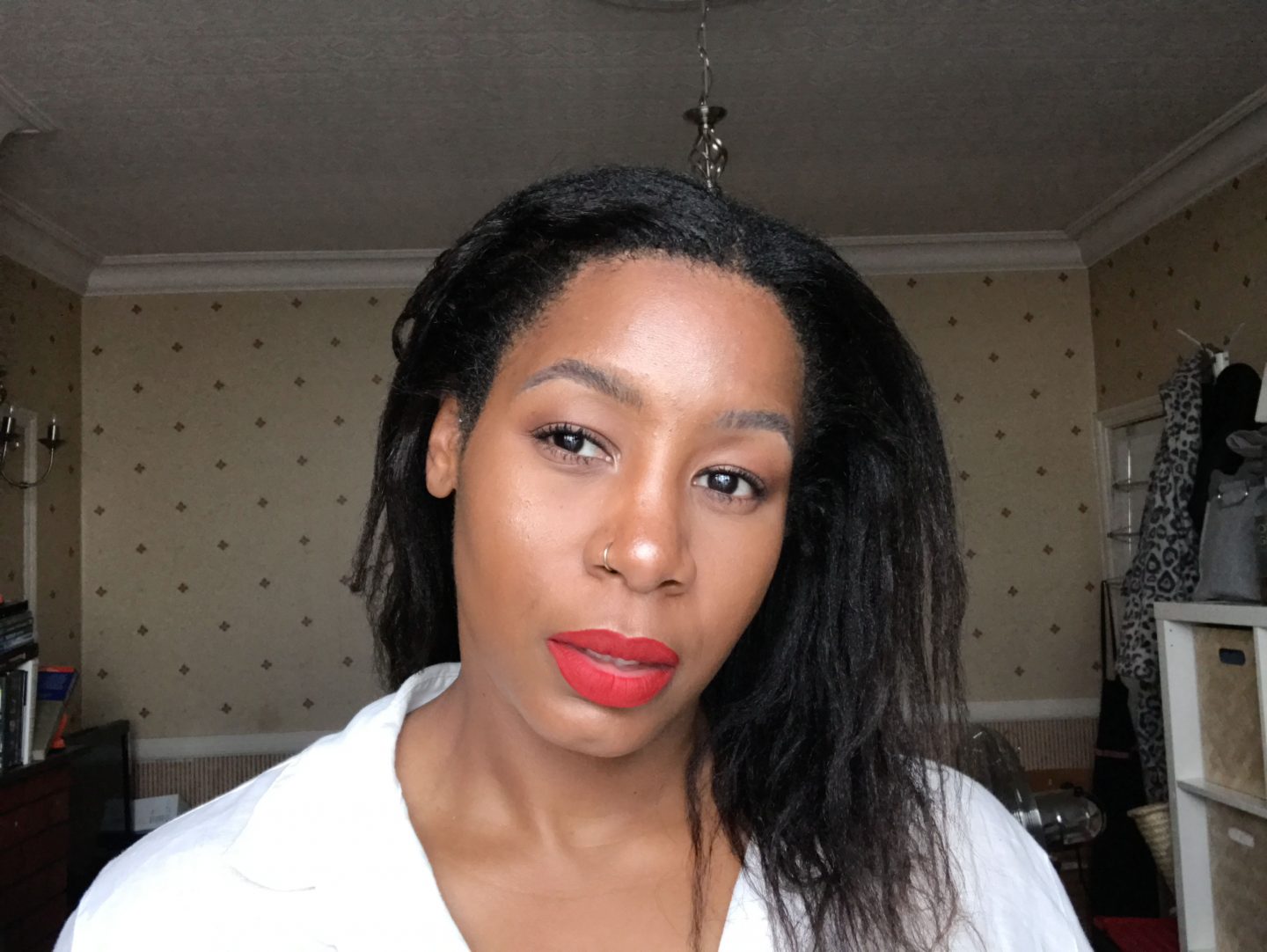 Best beauty products
HD Foundation By Colorblend Makeup
This year I have found myself reaching a lot for Colorblend HD foundation. This is hydrating, buildable, has my perfect match C10 and I love the formulation. Here's my favourite red lip look with it on. It looks like my skin! Love it! (purchase here)
Makeup tools
Custom Blending Brush by Cover Fx
This brush right herrrrrrre! It's like magic – do you see that pic above? #nofilter this brush blends all foundation in like skin. I went to a Cover FX event earlier in the year and I saw this brush bought it on a whim and it is the best decision I made! The application is great, no streaks, the bristles are compact yet soft so it buffs in the foundation. It's like a dream. (purchase here)
Pro Beauty Makeup Blender Foundation Sponge Set
This sponge has been the best dupe for a beauty blender I have used. It's cheap and the quality is on point. It comes in a pack and is way below the price of one beauty blender. It's firm but not too much and does not pick up product. I would even go as far as saying it's better than a beauty blender due to the cost and it being just the same. If not better. (purchase here)
Ben Nye Pretty Pink Powder
This I have been reaching for the most this year to set my under eye concealer. It's pink to brighten and finely milled so it blends in so nicely. I do not bake anymore as it was too drying for me so I literally apply the powder with a damp sponge and leave for a minute then brush it off. That's been working well to stay put and brighten. These bags have no respect and anyway I can hide them I'm down! (purchase here)
Mac Studio Conceal and Correct Medium-Deep
I have tried my concealers this year and this one I keep going back to. I mainly use NC40. I keep going back as it's creamy, hardly creases and gives me the coverage without looking like I chucked a bunch of concealer on. in my book I'm #winning (purchase here)
Lanolips 101 Ointment
This has been a life saver for me. This actually moisturises! don't let vaseline fool you. Lanolips has ingredients that adds moisture (lanolin which is a natural moisturiser) rather than sitting on top of your lips catfishing you.. like vaseline – lol. I have eczema so my lips are the first to betray me. (purchase here)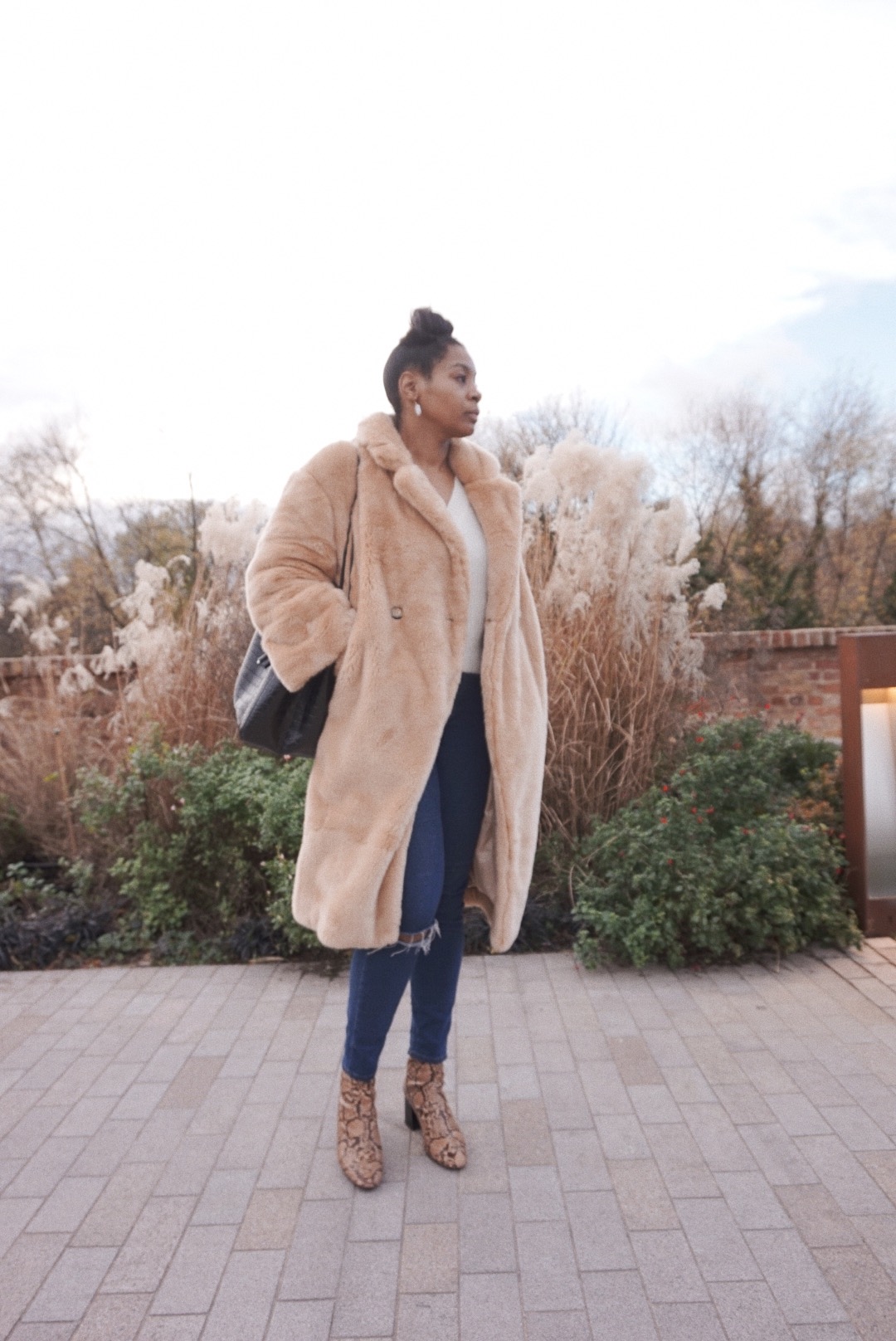 Best of Fashion and accessories
This past summer straw bags became very popular and mine became surgically attached to my hand. These were low in price and so chic. They went with EVERYTHING. I can not wait until summer to use mine again. (purchase Large and small)
Fur Coat from H&M
I love fall and winter for the outerwear. This year I bought this Fur Coat and it is the best buy as it was only £80 and the quality is worth much more. It's so heavy and SO warm! Perfect for this fake snow we have in the UK lol (Alternative – purchase here)
Mom and Straight Leg jeans
I usually wear skinny jeans and this year I decided to venture into getting Mom and straight leg jeans. Asos has become my go-to for jeans as they last the longest and fit so well. If you want a long lasting well-made pair of jeans ASOS is the place to go. (purchase here)
Snakeskin Boots
Animal print has been a huge this fall and winter. I have added to my wardrobe these beauties. Zara has been a life saver for me as I have size 9 feet so I bought a few or a lot lol. They all fit me perfectly and almost bought a tear to my eye as I struggle to find boots I like that tick all my boxes. Tapered, not too high, quality material and fit well. THESE hit them all. (purchase alternative here)
So guys these are all the things i have been loving. A lot have been in my arsenal for a while and already have holy grail status. Let me know if you have any questions.
I will also be doing an annual post so see you next year.
Charmain